Holtz and Fitch: Back together and putting up big numbers
When Skip Holtz and Todd Fitch are at the helm, their teams put up gaudy numbers. As Holtz's offensive coordinator at Connecticut, East Carolina and South Florida, the two did just that so this year is no different.
Tony Petersen left Tech to be East Carolina's offensive coordinator in the offseason. That's when Holtz called Fitch to make the move from Boston College to Louisiana Tech.
"I think Todd Fitch has done a really good job," Skip Holtz said during his postgame radio interview following Tech's 61-16 win over Rice. "We talked about the comfort level with him and I and how much we've been together and for the history that we have been together in this game; but I think he comes in, we understand each other; we talk to each other. He's a phenomenal set of eyes in the box. He's got a great mind."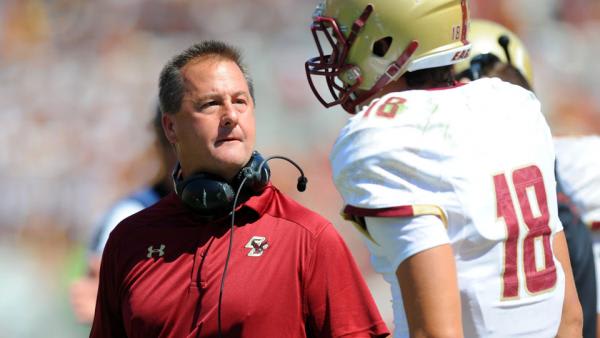 Currently, not only is Tech's offense the second most efficient in the country according to FootballStudyHall.com, but the Bulldogs rank second nationally in pass offense, fifth in total offense, six in pass efficiency, seventh in scoring, third in third down conversion percentage and second in first down offense. Not to mention, quarterback Ryan Higgins is third in the country in passing yards while receivers Carlos Henderson and Trent Taylor rank first and fourth respectively in receiving yards per game, Taylor is first in the country in receiving yards, and Henderson is second in all purpose yards. These are just categories where individual Bulldogs are in the Top 5.
"Todd knows what Coach Holtz is looking for," Tech quarterbacks coach Tim Rattay said. "I think it's been a huge improvement for our offense."
Losing players like Jeff Driskel, Kenneth Dixon and Paul Turner to the NFL is never easy to replace for anyone.
"We lost some good players (to the NFL), some seniors and we needed some younger guys to step up and Todd's really helped that," Rattay said. "And those kids have really bought in to what we're doing and they understand our expectations and what our standard is and they want to reach that standard and we push them each week to do that."
SIGHTS AND SOUNDS FROM THE 61-16 VICTORY OVER RICE