Tech hires Petri as DL coach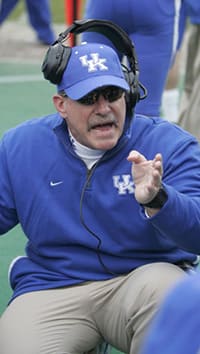 Tech is hosting many players this weekend as the push towards signing day begins. We have learned Petri arrived in Ruston Friday night and will be around Saturday as the Bulldogs host upwards of 20 prospects in Ruston several of which are defensive linemen.
In a release today, Duke head coach David Cutcliffe announced Friday Petri was leaving Duke to "pursue other opportunities."
"We certainly appreciate Rick's efforts in helping build our program," Cutcliffe said. "We wish him the best in his future endeavors."
In 1992, Petri was Tech's defensive line coach then spent three seasons at Miami (1993-95). From 1996-98 he coached defensive ends at South Carolina. In 1998, Cutcliffe hired Petri as defensive line coach at Ole Miss where he stayed until 2004. From 2005-10 Petri served as defensive line coach at Kentucky and 2010 again at Miami. In 2011, Cutcliffe and Petri reunited in Durham, N.C. at Duke where Petri has been defensive line coach.
Throughout his career, Petri has coached several players to be drafted in the NFL Draft, most notably Warren Sapp. Sapp went on to earn NFL Defensive Player of the Year honors in 1999. In addition to all of the future professionals he coached, Petri has been a part of some very successful defenses. In 2010, the Miami Hurricanes defense ranked among the league's leaders in pass defense (1st), pass defense efficiency (1st), opponent third down percentage (2nd), opponent first downs (2nd) total defense (3rd), sacks (3rd), and scoring defense (5th). Under Petri's guidance, senior Allen Bailey earned All-ACC honors after leading the Hurricanes in quarterback sacks.
Not only is Petri a good coach, he is also known as one of the good guys in the business.