Louisiana Tech Closes Out 2018 Recruiting Class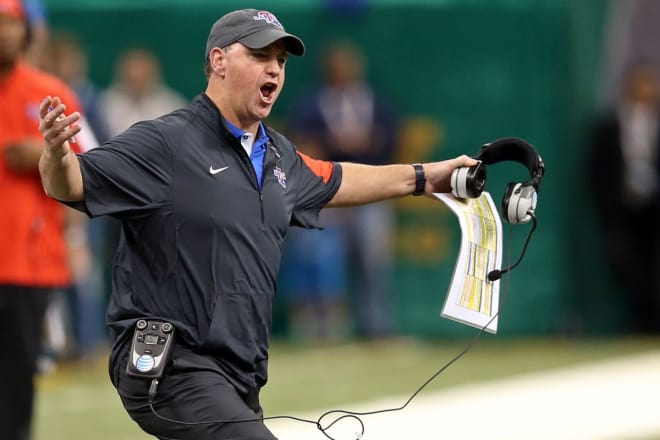 Skip Holtz and Louisiana Tech announce the signings of eight prospects Wednesday morning to close out the 2018 recruiting cycle.
In all, the Bulldogs will welcome 24 new faces to the program. Of the 24 prospects, 18 come from the high school ranks, while four come from junior colleges and two come via transfer.
Thirteen signees play offense. Ten play defense, and one is a special teams player.
Speaking about the 2018 recruiting class from an offensive perspective, Skip Holtz said, "Overall when I look at this class, I get excited for a number of reasons. I get excited about the athleticism on offense, when I look at the running backs, when I look at the receivers, we have an incredible amount of ball carriers."
When looking at the defensive prospects that were signed, Holtz stated, "The biggest word of the day is toughness. Size and toughness. The [linebackers] can run. They can hit. They strengthen our group." Tech signed three junior college linebackers, Connor Taylor, Trey Baldwin, and Brandon Floyd, that will vie for playing time right away.
Of the eight prospects that Tech signed Wednesday, three are on the offensive line. Willie Allen, originally an LSU signee, highlights an impressive group of offensive lineman in the 2018 class. High school offensive linemen Walker Hankinson and Eric Dunn also signed Wednesday.

Davon "Smoke" Harris and Derek Turner highlighted the day from a skill position standpoint. Harris, perhaps the most explosive playmaker in the state of Louisiana, will provide instant offense for the Bulldogs in 2018. Speaking about Harris, Holtz said, "He is an impact player that will have the opportunity to come in and immediately challenge for playing time."
Turner, a high school teammate of Harris, will play safety for the 'Dogs. He held offers from the likes of Auburn, Missouri, and TCU.
Running backs Elijah Hines and DeAndre Marcus, along with defensive end Steven Shaw, round out Louisiana Tech's signees in the late signing period.
In all, Tech compiled players from five states around the country. Louisiana and Texas combined to supply 21 of the 24 prospects with one prospect coming from Mississippi, Arkansas, and Utah.
The 24 prospects that Holtz and his staff signed certainly give Bulldog fans hope for that elusive first Conference USA Championship.
The Bulldogs will now turn their eyes towards spring practice that will begin March 9th. The annual spring game will be held April 14th.
If you missed our article on who signed with the Bulldogs in the early signing period, you can check it out here.
Stay tuned to BleedTechBlue.com throughout the offseason for the most up to date news you will find surrounding the Bulldog football team.